Hello. My name is Simon Mitchell, and I am 24 years old. Last year, I went to the abandoned six flags in New Orleans. I was very curious if their was any paranormal stuff inside the park. Hell, I've seen videos of the park, like people stealing stuff and vandalizing the place.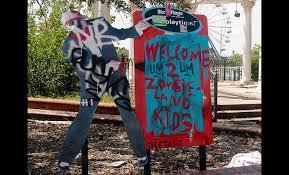 I drove up there from Nashville, Tennessee. I was pretty worried, because the police might be patrolling the site, or their could be some crazy hobo living in the abandoned park. Because of this, I wanted to bring my gun. I finally arrived, with joy and excitement, and saw the places I wanted to go to as a kid.. But then, a gang of 3 older kids arrived with shotguns and said ''
Hey! This is our place! Get out!''
I calmly said ''
Okay! Calm down! I will leave!''
So I quickly grabbed my gun and shot the kids. I stole their guns and hid them in a bush so nobody could see it.
I finally got into the park, and someone threw a frag grenade in the Jocco's Mardi Gras Madness attraction. I could see the man, running and screaming ''BURN IN HELL, New Orleans!'' I tried to shoot the man, but I couldn't. I assumed it was the kids father, because he must have been mad that they died. The man drove away and after 10 seconds, I heard a crash. He might have killed himself. I was petrified. So I ran out of the park, in horror.
Just as I was going in my car, a few police cars pulled up. They must of known that I killed the kids because I was at the park. I put my hands in the air. Then, the officer told me to put my hands behind my back, and he handcuffed me. The next day, I ended up in court. The Judge sentenced me to 13 years for killing the kids. My release date is 2026.